Kingdom Seekers Fellowship is one of the largest churches in Kenya with a massive following not only physically but also in social media. The ministry is spearheaded by Apostle John William Kimani who is the founder and the senior pastor of the ministry.
If you are finding a church to fellowship, this would be an amazing church to join following its Biblical teachings coupled with Christian Principles and high regard to the Holy Spirit in the church.
The church is anchored on the scripture in Matthew 6:3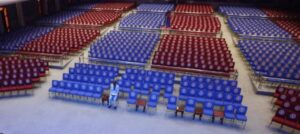 3 which quotes,
"But seek ye first the kingdom of God and his righteousness and all other things shall be added unto you."
Here is all you need to know about Kingdom Seekers Fellowship.
Kingdom Seekers Fellowship Headquarters
Kingdom Seekers Fellowship is headquarted in Nakuru, Kenya few meters from Nakuru CBD. The church headquarters are on a huge massive auditorium with a huge cross running from one face of the auditorium.