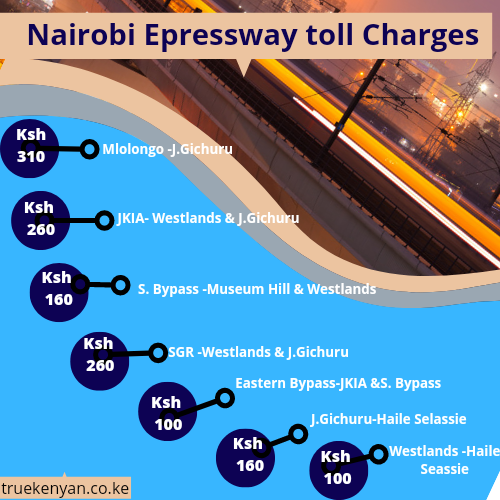 The Nairobi expressway is a 27 kilometre road running all the way from Mlolongo in Machakos County through JKIA (Jomo Kenyatta International Airport) through to the central Business District and fades at the high-end suburbs of Westlands. The road cost Kenya at least 73.5 Billion ($648million).
It has been built by the Kenyan Government with the aim to ease traffic jams and for the global economic benefits it brings to the notoriously congested city. It has been termed as one of Africa's best pieces of infrastructure.
Usually the distance you would take 3 hours at rush hour, it now takes you barely 30minutes.
With more than 10,000 registrations and counting for people who would use the expressway, you might be interested to know why and how it operates.
The minimum toll fee is Ksh 100 and a maximum of Ksh 310 depending on the distance covered
We explore the 10 various entrances and exits to guide you access the expressway especially from major roads. They include:
Mlolongo
SGR Terminus
JKIA
Eastern Bypass
Southern Bypass
Capital Centre
Haille Selassie Avenue
Museum Hill
Westlands
James Gichuru Junction
Below are some of the major points in regards to where they lead.
Entrance to Nairobi Expressway at Mlolongo
This is the first entrance to the expressway on your way to Nairobi City.
This entrance is found alongside the Mlolongo Footbridge. You approach it from African Inland Church (AIC) Kasina Church.
So, after you visit Signature Mall, the entry here is the closest you can access the expressway.
Exit from Expressway to Jomo Kenyatta International Airport (JKIA)
This is a very important point along the expressway. The Jomo Kenyatta International Airport is a major transit hub in East and Central Africa, with an approximate capacity 2.5 million passengers annually.
To exit to the airport from the expressway, pass by Gateway Mall and know you're just on the right track.
Haile Selassie Expressway Intersection
This road is one of the crucial routes to the CBD. Exiting at this point grants you quick access to the core of the City, why entry at this point too is a bypass to the huge hustle from traffic jams at Nyayo stadium.
Nairobi Expressway exit to and from Thika Road
This entry and exit are named Museum Hill. The exit route at the University of Nairobi is very important for those coming from Westlands.